It has taken decades to refine this recipe handed down from generations to create the pizza our guests enjoy today. It is all about the dough and it is this truly unique crust that emerges from our ovens that makes our pizza so special.
See other menu items below including handmade appetizers, hoagies and sandwiches then select your favorite Goomba creations.
Goomba Favorites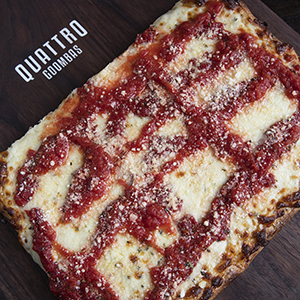 Sicilian style pizza with a light, crisp crust perfected over generations is the key to this fabulous, many say best they ever had, pizza.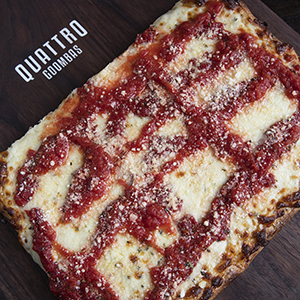 Sicilian style pizza kit includes all you need to bake it at home!
Enjoy Quattro Goombas the way you want
In Person
Visit us inside or grab a spot in our outdoor covered tent (heaters included).
Carry Out
Call ahead and drive on up to our front door on your way home. Wine and pizza, yum!
Online
We ship beer to VA, DC, NC, CA, FL, MN and food, merch & gifts to all the other lucky states in this great union.
Experience Hand-Crafted Wine, Beer and Pizza
Come thirsty and hungry to enjoy all Quattro Goombas has to offer. Please see the link below to learn more about upcoming experiences at Quattro Goombas.